Peteris Lidaka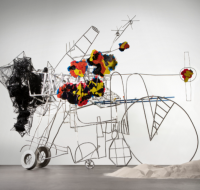 Peteris Lidaka is a self-defined traveler in space, who plays with countless
devised forms of flying creatures and objects. With participation in a number
of solo and group shows, the artist`s works bring out intense, surreal,
unexpected, metaphorical and fragile qualities through a wide range of
disciplines: drawing, illustration, sculpture, animation and photography.
Artist developed a love for the abstract, expressive drawing and model
making, he dedicates his practice to a passionate fantasizing of parallel
worlds that invites a daring to overstep the cliches of contemporary human
minds. Currently artist is collaborating in various design projects and
working for his upcoming solo show.
Curriculum Vitae
CURRICULUM VITAE
Peteris Lidaka 
www.peterislidaka.com
Born 1978, based in Riga (Latvia)
Fields of activity: painting, sculpture
EDUCATION
2008 – 2010: University of the Arts London. Central Saint Martins. Communication Design. MA
1998 – 2003: Art Academy of Latvia, Department of Visual Communication. BA 
1993 – 1998: Riga School of Design and Art, Furniture design
EXHIBITIONS:
2018 ''Tetrix'', solo show, Art Centre NOASS, Riga (LV)
2018 ''Impatience'', solo show, M Art Gallery, Riga (LV)
2018  Bologna Arte Fiera, Galleria Corraini (IT)
2016  s(pace), solo show, Galleria Corraini, Mantua, (IT)
2016 "Hypotheses non fingo", solo show, Libreria +121, Milan, (IT)
2015 "Designer's tribute to Ansis Cirulis", group exhibition, Museum of decorative arts and
design, Riga (LV)
2015 Biennale of Illustrations 2015, Bratislava (SVK)
2014 "Body Frequencies", group exhibition, Popper, Riga (LV)
2013 "Patience", group exhibition, Kanepes Culture Centre, Riga (LV)
2013 ''Where is my plane?'', group exhibition, Riga Art Space, Riga (LV)
2012 ''AEROSAURUS'', solo show, Riga Interntaional Airport (LV)
2011 Project "CalogneOff VIII", International Video art Festival, worldwide
2010  "Final show",  group exhibition, Rochelle School, London, (UK)
2010 "In Progress", group exhibition, Shoreditch Town Hall, London, (UK)
2009 "2010", group exhibition,  Westminster Reference Library, London, (UK)
2004 "Livinbg spirit" group exhibition, Riga Gallery, Riga (LV)
2003  "The Renaissance Society", group exhibition, Chicago, (USA)
2008  International video art festival "Waterpieces" , group exhibition, Noass gallery, Riga, (LV)
COLLABORATIVE PROJECTS
Design project "Cīrulis Typeface" , sculptures and objects (2015) (LV)
National film festival Lielais Kristaps 2014  (instalation and video) (LV)
Illustrations for Orbita Text Group's book  "ТАЛКА /TALKA" (2014) (LV)
BikiBuks #045 . Illustrations for Māris Čaklais poem "Sun with teeth" (2014) (LV)
Latvian illustration magazine "Popper" publishing and exhibition series (2013 - 2014) (LV)
Sagra Dei Osei  740/2013  / festival identity (IT)
VETO MAGAZINE, illustrations, issue #25 (2013) (LV)
Un Sedicesimo, Issue #32 (2013) (IT)
The Loop. Illustrations (2012 -2013) (UK)
City vision Mag – Issue 8 (2013) (IT)
Lurzer's Archive, advertising worldwide, Vol. 6 (2011) (AU)
Magazine "Foto kvartāls"  (2007) (LV)
ANIMATIONS/VIDEO/ STOP MOTION
Aational film Festival Lielais Kristaps (2014) 
Calogne Off (2011)
''Imaginary planes''; (2010)
International Contemporary and Video Art festival "Waterpieces" (2010)
"Little fairy tale''; music video for Tramplīni (2008)
 International Contemporary and Video Art festival "Waterpieces" (2008)
Experimental music festival 'Sound Forest' (2008)
New Europe, New Video. The Renaissance Society, Chicago (2005)
''The Cat''; music video for Hospitāļu iela (2005)
 International Contemporary and Video Art festival "Waterpieces" (2005)
PROFFESIONAL EXPERIENCE:
2016  Merano The Archive O.P.L.A., workshop leader
2015 Museum of Decorative Arts and Design, workshop leader
2014 Freelance artist
2012 - 2014  Guilty|Grey, Senior Art Director 
2005 - 2012   "MOOZ!", Senior Art Director/ Creative director
2004 - 2005 DDB Latvia, Art Director
1998 - 2002       Riga School of Art and Design, teacher
AWARDS
Antalis Grand Art (2013)
Creative Excellence Festival ADWARDS, Gold – graphic design (2012)
Laureate in Future Map 10, Zabludowicz Collection Space, London (2010)
Grand Prix International Contemporary and Video Art festival "Waterpieces" (2003)