Peeter Allik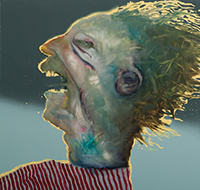 Allik graduated from University of Tartu the Department of Fine Arts in 1993 and participates in exhibitions already since 1987. In 1988 together with his confederates artists Albert Gulk, Ilmars Kruusamae, Priit Pangsep and Priit Pajos, he established an artists group KURSI KOOLKOND (KURSI SCHOOL). Group positioned itself as province artists thus being ironic about the public of art life as a process of urban centres.
"Peeter Allik is a social artist. Like most social artists, also he does the documentation. Alliks speciality is the way of documentation. He does not document any specific events or problems, but the emotions they cause in people". /Mari Kartau/
The artist says of his work: My work is about the present situation. It is not an art of eternity or eternal beauty! Just todays situation – this is my eternal beauty. If you live your life now, you know what the past is, and what the future is.

Curriculum Vitae
Born 28. VI 1966 in Põltsamaa, Estonia.
Since 2014 freelancer artist
2005-2014 painting lecturer in Tartu Art College.
2001-2004 Academia Non Grata, head of painting and graphic arts department. 
1994-2001 freelance artist

1993 Graduated in Tartu University 

Exhibited Internationally since 1988
Solo Exhibitions
2016 These Tomatoes Will Not Rot. Gallery Bastejs, Riga, Latvia
2015 Jonavos Kulturos Centras. Gallery Homo Ludens, Jonavo, Lithuania
2015 These Tomatos Will Not Rot. Tallinn Art hall Gallery, Tallinn, Estonia
2015  Horse`s Head. Gallery Hobusepea, Tallinn, Estonia
2013 Peeter Allik. Gallery Ietsmooisaandemuur, Hertogenbosch, Netherland

2013 Art is a Serious Thing. Gallery Bastejs, Riga, Latvia

2012 Graphics. Muzeum Dr. Bohuslav Horak in Rokycany, Czech Republic 

2012 Solo exhibition in Gallery ForOrtOst as part of  IV- International Print Exhibition- Ereignis druckgraphik BBKL Gallery, Leipzig, Germany
2012 Great Fabulous Food Club. Gallery Draakoni, Tallinn, Estonia
2012 Peeter Allik & Toomas Kuusing. Cafe Stadler, Berlin, Germany
2011 Solutions. Maniere Noire, Berlin, Germany
2011 I Saw Nothing. Gallery Bastejs, Riga, Latvia
2011 Carnivore Club. Gallery Monumentaal, Tartu Art House, Tartu, Estonia
2010 Peeter Allik & Toomas Kuusing. Create an Art City Project - Docking , NOI Gallery, Korea Experimental Art Festival 2010, Seoul, Korea
2009 Upon My Word. Together with Rolandas Rimkunas, Gallery Draakoni, Tallinn, Estonia

2009 Artist group "EDU" - 1988, with Albert Gulk. Gallery FERRODRUM, Tartu Culture Factory, Estonia
2008 How to Get RICH and Beautiful. Gallery letsmooisaandemuur, Hertogenbosch, Netherland

2007 Enormous Arse. Our Attainment. Non Grata Art Container, Tallinn, Estonia

2007 Beginning of the New Happiness. Pärnu City Gallery and Pärnu Concert Hall, Estonia

2006 Artist and His Hen. NoMi Gallery, St.Petersbourg, Russia

2005 In Graafika. Print exhibition in building of Government of Pärnu County, Estonia

2005 I Saw That. Tallinn Art Hall, Tallinn, Estonia

2005 Kaliningrad State Art Gallery, Russia

2004 Die brandstiftung den Privatisierungsdokumenten. Open Space, Berlin, Germany

2004 I Saw That. State Secret - Fuck Off Nation. Tartu Art House, Estonia

2004 Prints exhibitionin in Concert Hall Estonia, Tallin, Estonia

2003 Mystical Nature of Nature. NoMi Gallery, St.Petersbourg, Russia

2003 Secrets of the XX Century. Haapsalu City Gallery, Estonia 

2003 Paintings From 88. Puurmani manor house, Estonia

2002 Our Conception Is Future. With Anton Starkopf, Narva Gallery, Narva, Estonia 

2002 In Graafika. Pärnu College of Tartu University, Pärnu, Estonia

2002 43 Motionless Pictures. Vaal Gallery, Tallinn, Estonia

2001 Radically Correct and Pictures of  Nature. Tallinn Art Hall, Estonia
2001 Silence Was Broken by Great Exploison. Tartu Art House, Estonia

2001 24h Non-stop Lection. Kunstplaze Unabomber, Pärnu, Estonia

2000 Concret Solutions. Sammas Gallery, Tallinn, Estonia 

2000 Exhibition of Paintings and Prints in Gallery of Estonian Bank

1998 M.Mäetamm ja P.Allik in Estonian Ambassadory in Washington, USA

1998 A.Seppet & P.Allik in Galeria Uusikuva, Kotka, Finland

1997 Secrets of the XX Century. Tallinn Art Hall Gallery, Estonia

1997 Impressionism. Raatuse Gallery, Tallinn, Estonia 

1997 UN. Obu Gallery, Tartu, Estonia 

1997 Paintings From 88. Lastekunstikooli Gallery in Tartu, Estonia 

1996 Prints exhibition in castle Purtse, Estonia

1993 Me. Vaal Gallery, Tallinn, Estonia

1993 Print exhibitions, I. Kruusamäe & P. Allik. Part of  13th International Exhibition of Korean Printmakers Seoul, Korea Kyungin Art  Gallery, Korea

1993 Sebra Gallery, Tartu, Estonia

1993 Gütersloh, Germany Gallery Kunst und Schule, Germany (with Ilmar Kruusamäe)

1992 Raatuse Gallery, Tallinn, Estonia

1991, 1995, 1997 Library of Tartu University, Estonia
Prizes and Awards
2015 2nd Prize, Kaliningrad, Königsberg International Print Triennal, Russia
2015 Grand Prix I- Kaunas International Printmaking Biennial "Culture Line" Lithuania
2011 Chicago Printmakers Collaborative Prize, USA
2011 Exhibition Prize, Ereignis Druckgraphik 3, Leipzig, Germany
2010 The Main Biennial Award, 5th Rokycany Biennial in Graphic Arts, Czech Republic

2008 Prize for one of 10 best Estonian posters, exhibition Estonian Poster Today, Haapsalu, Estonia

2008 Diploma for best engraving, International Print Exhibition- Creation of the Universe IV, Minsk, Belarussia

2007 One of three equal awards of the 14-th International Print Biennial, Varna
2007 Bulgaria
2006 Year grant of Estonian Cultural Foundation, Estonia

2006 Prize No.3. Print Biennale St. Petersbourg, Russia
2005 Kristjan Raud Prize and medal, Estonia

2002 Grand Prix of VII International  Biennal of Graphics, Kaliningrad/Köningsberg Triennal, Russia    
2001 Konrad Mägi Prize and medal, Estonia

2001 Year Prize of Estonian Cultural Foundation Tartu Regional Department, Estonia
2000 NIFCA grant for residencies
2000, Malongen in Stockholm, Sweden
1998 Terzo premia International Exhibition of Art "Citta Di Locri", Italy

1997 Ado Vabbe Prize, Tartu, Estonia

1997 Estonian Painters Society Annual Prize for Young Painter, Estonia

1996 Rural Municipality of Jyväskylä award for a Young Printmaker, International Print Triennal, Graphica Greativa 96, Finland

1993 "Tokko&Arrak" Gallery Prize, Estonia