Arturs Virtmanis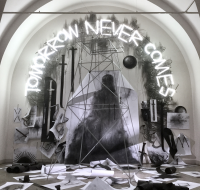 Arturs Virtmanis is a New York based visual artist and designer born in Riga, Latvia. Working
as an installation artist, set designer and art director with educational background in sculpture,
graphic arts and design. His artwork - visually and metaphorically dense provisional drawing
environments that combine relics of sentimental imagery of past eras, cryptic texts, small-scale
models and found objects has been exhibited at The Drawing Center (NY), The Whitney
Museum of American Art (NY), Venice Bienalle of Architecture (Venice, Italy), Exit Art (NY), PS122
(NY), Blue Star Contemporary Art Museum (San Antonio, Texas), Xin Dong Center for
Contemporary Art (Beijing, China)Morris Museum (NJ), Jersey City Museum (NJ), The State
Museum of Art (Riga, Latvia), Museum Arsenals (Riga, Latvia), Riga Art Space (Riga, Latvia) among
others.
Curriculum Vitae
Education
1986-1990 Riga Applied Art Collage, B.Design
1990-1996 Latvia Academy of Arts, MFA
Awards and nominations
2018 Tomorrow Never Comes, nominated for Purvitis Award, in category for The Best Work of Art/
Exhibition of the Year, Latvia
2017 Fucking Times installation nominated for The Artwork of the Year, by main daily newspaper
Diena, Riga, Latvia
2013 Nominated for Purvitis Award, in category for The Best Exhibition of the Year, Latvia
Solo shows
2018 Against The Tragic Wall - MEN Gallery, New York City
2013 10 000 Melancholy Folds - Riga Art Space, Riga, Latvia
2005 Simulations - Control-room/Hunters Lodge - Remote Gallery, Jersey City
2003 Drawn from Life - Company Gallery, Syracuse, New York
2001 Urban Mantra - Mental Gallery, Hoboken, NJ
1999 Signs and Signals - The Gallery Space at Grace Church, Jersey City
Selected projects
2018 Linda Vista - set design for the play at The New Riga Theater, directed by Alvis Hermanis
2015 Bronze Horseman - design of projection images for a staging of a ballet Mikhailovsky
Theater, St. Petersburg, Russia
2014 Open Sessions, The Drawing Center - a two year program that facilitates exploration of new
modes of art production and presentation, NYC
2014 The Gospel According To The Other Mery - design of giant photo murals for the set,
director Peter Sellars, English National Opera, London
2013 Queen Of The Night - commission of a mural and site specific installation for an immersive
theater project, Paramount Hotel, New York City
2012 Sochi Olympics Opening Ceremony - design of giant inflatable scenic objects,
in collaboration with George Tsypin, New York City
2011 Sea Glass - carousel design, in collaboration with George Tsypin, Lower Manhattan Cultural
Council, Battery Park, New York City
2010 Spiderman - Turn Off The Dark - 3D object design for the set, New York City
2009 The Spiral in The Sky - concept design for an observation tower, in collaboration with George
Tsypin and NY Waterways, NYC
2008 A Bird in Your Ear - set design, in collaboration with Doug Fitch - Fisher Center at Bard
Collage, NY
2002 Two Theaters - installation at the Venice Bienalle of Architecture in collaboration with
George Tsypin, NYC; Venice, Italy
2000 Souvenirs for the End of The Century - in collaboration with Boym Design Studio,
"American Century", Whitney Museum of American Art, NYC
Selected group shows
2018 Portable Landscapes - On Bridges of No Return, The State Museum of Art, Riga, Latvia
2018 Future State - installation Tomorrow Never Comes, Museum Arsenals, Riga, Latvia
2017 Contemporary Art from Eastern and Central Europe - Xin Dong Gallery, Beijing, China
2017 Side-Step - jewelry by contemporary artists, Puti Gallery, Riga, Latvia
2017 From the End of Time - Fucking Times - Riga Art Space, Latvia
2016 Survival Kit 8 - To Perish in Fantasy at Stricka manor house, Riga, Latvia
2016 Exquisite Corpse - Planthouse Gallery, New York City
2015 Narrative Axis - Blue Star Contemporary Art Museum, San Antonio, Texas
2015 Name it By Trying To Name It - The Drawing Center, New York City
2015 Distant Moods on a Blue Evening - Cesis Art Festival, Cesis, Latvia
2015 Above Ground - Popper mag at Gallery Alma, Riga, Latvia
2014 Open Sessions 2 - The Drawing Center, New York City
2014 The Poor Farm, Little Wolf, Wisconsin
2014 Graphic-S - Riga Art Space, Riga, Latvia
2006 The Drop - Exit Art, New York City
2005 The Superfly Effect - Jersey City Museum
2005 Subversion - Gallery PS122, New York City
2004 The Presidency Show - Exit Art, New York City
2004 Big America - Fishtank Gallery, Williamsburg New York City
2004 The Group Show - Fishtank Gallery, Williamsburg New York City
2003 99 Show - Cynthia Broan Gallery, New York City
2003 Cultural Explorations - Morris Museum, Morristown, NJ
2003 Manifestations - Denise Bibro Gallery, New York City
2002 New Growth - Art Newport/Pro Arts, Jersey City
2002 The Beauty of Big - Victory Hall/Jersey City Museum
2002 New Jersey Arts Annual - Jersey City Museum
2001 Art 111 - Jersey City Museum/Pro Arts
2000 Annex - Gallery X, New York City
2000 The Corridor - Gallery X, New York City
2000 The Powerhouse Show - Pro Arts/Fleet Bank, Jersey City
1999 Annual Sculpture Symposium - Baltic Sea Center, Helsinki, Finland
1998 Annual Gallery Artists Show - Chamot Gallery, Jersey City
1997 International - Marsha Child Contemporary, Princeton, NJ
1997 Celebrating Still Life - Mimi Ferzt Gallery, New York City
1995 House - preselection for Biennale Art Gend 96, M6 Gallery, Riga, Latvia