Helena Heinrihsone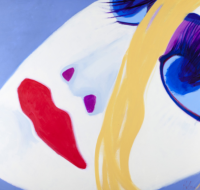 Painting is the greatest adventure, where nothing is impossible. It breaks down boundaries between reality and art. When the deeply personal is formulated into colors and made public, serious things can be turned into farce. So it is with my dogs, foxes and cat-frogs. Through a ludicrous body a very specific experience is revealed.
/Helēna Heinrihsone/

Helēna is versatile. Her excellence shows not only in her painting, but also in the graphic, drawing, porcelain painting and animation.

Curriculum Vitae
Born in 1948 in Riga, Latvia
Education
1967-1973 Latvian Academy of Art. Painting department
1960-1967 Jānis Rozentāls Riga secondary school of Art
Selected Solo Exhibitions (2004-2016):
2016    ILLUMINATION. Gallery Bastejs, Riga, Latvia
2015    Magic Realism. Gallery Bastejs, Riga, Latvia
2014    In the Sea. Maksla XO Gallery, Riga, Latvia
2013    Hot.  Maksla XO Gallery, Riga, Latvia
2013    Fetishes. Gallery Bastejs, Riga, Latvia
2012    Flat. Maksla XO Gallery, Riga, Latvia
2011    Observers. Gallery Bastejs, Riga, Latvia
2011    Helena Heinrihsone. Aquarelle. Maksla XO Gallery, Riga, Latvia
2010    Painted From. Maksla XO Gallery, Riga, Latvia
2009    Ivars & Helēna. Paintings. Gallery Bastejs, Riga, Latvia
2008    Watercolours. Gallery Bastejs, Riga, Latvia
2007    Hey, Mole! Latvian National Museum of Art, Riga, Latvia
2004    Summer Faces. Maksla XO Gallery, Riga, Latvia          
Selected Group Exhibitions (2004-2014)
2014   ART COPENHAGEN 2014, Gallery Bastejs, Copenhagen, Denmark
2014   ART VILNIUS. Maksla XO Gallery, Riga, Latvia
2013    Rīgas Laiks. Maksla XO Gallery, Riga, Latvia 
2013    Blue. Maksla XO Gallery, Riga, Latvia           
2013    Holy Shit. Gallery Bastejs, Riga, Latvia
2013    Liste Berlin. Gallery Bastejs, Berlin, Germany
2012    Baltic Bridges. Museum of Visual Comunications, Kaunas, Lithuania
2012    Calendar. Gallery Bastejs, Riga, Latvia
2011    ART VILNIUS 11.  Maksla XO Gallery, Vilnius, Lithuania
2011    Lithographers. Maksla XO Gallery, Riga, Latvia
2010    Red Dot Art Fair NYC. Gallery Bastejs, NYC, USA
2010    Cities of Europe in the Works of the Latvian Painters No. 2. European
2010    Commission Representation. Gallery Asuna, Riga, Latvia
2010    Golden Works. The Exhibition Hall Arsenals of Latvian National Museum of Art, Riga,Latvia
2009    SCOPE ART FAIR BASEL. Gallery Bastejs, Basel, Switzerland
2009    ART VILNIUS 09. Maksla XO Gallery, Vilnius, Lithuania
2009    Bridge Art Fair. Gallery Bastejs, NYC, USA
2009     Conversion. Design and Decorative Art Museum, Riga, Latvia
2009    Tuareg Blue. Gallery Bastejs, Riga, Latvia
2008    Cities of Europe in the Works of the Latvian Painters. Art Gallery Asuna, Riga, Latvia
2008    Baltic Bridges. M.K.Ciurlonis National museum, Kaunas, Lithuania
2008    The Purvītis Prize. The Exhibition Hall Arsenals of the Latvian National Museum of Art,Riga,Latvia
2007    Echoes of Fauvism. Latvian Painting 1910 – 1980. The Exhibition Hall Arsenals of Latvian National Museum of Art, Riga, Latvia
2005    Vita Nuova. La Lettonia in Europa. Pallazzo Reale, Napoli, Italy  
Awards:
2009 Nominant for the Purvītis Award 
2008 Diena Annual Culture Award
2008 Lielais Kristaps ("Big Kristap") – Prize of Latvian Filmmakers Union
2008 Order of the Three Stars – order awarded for merits in service for Latvia
Public collections:
The Latvian National Museum of Art.  Riga, Latvia
Latvia Artists' Union Museum. Riga, Latvia
The State Tretyakov Gallery. Moscow, Russia
Jane Voorhees Zimmerly Art Museum. Rutgers University, New Brunswick, USA
Swedbank Contemporary Art Collection.  Riga, Latvia 
State Bank of Latvia. Riga, Latvia