Juris Utāns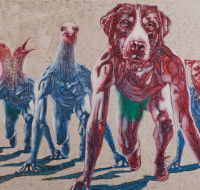 In his works Juris Utāns philosophizes about the fundamental values of life using his essentially distinctive techniques. He has always been interested in the socially topical; he plays out situations using symbols, and creates ironic and absurd scenes withdrawn from the everyday life.
It may seem as if nothing is sacred for Juris Utāns - he is able to laugh at everything, thickening the colors, but the artist does so intentionally, to make the viewer think.
Juris Utāns has graduated from the Janis Rozentāls' Secondary School of Art in Riga (1977) and the State Academy of Art, department of Painting (1984). He has studied in the workshops of Eduards Kalniņš and Boriss Bērziņš at the State Academy of Arts (1987-1990). Since year 1987 he works as a lecturer at the University of Latvia, Faculty of Pedagogy, Psychology and Arts, since year 2015 holds the position of associate professor.

Curriculum Vitae
Born 1959, Riga, Latvia
Education
1994 Master of pedagogy LU 
1990 E. Kalnins USSR Academy of Art painting workshop 
1984 T. Zaļkalns National Academy of Arts 
1978 Riga Technical School 6 
1977 Janis Rozentals Art School
Employment
1987 Lecturer, Faculty of Arts, Education, Psychology
2015 Associate professor 
Solo exhibitions
2016 Run?, Gallery Bastejs, Riga, Latvia
2016 Invasion. What Average Latvian is Afraid of. Mukusala Art Salon, Riga, Latvia
2013 – 2014 Flai - Letalka – Fly. Daugavpils Rothko Art Centre, Daugavpils, Latvia 
2012 Utāns Paints and Wins. Exhibition Hall Arsenals, Riga, Latvia (catalog)
2011 Heads.  LAU Gallery, Riga, Latvia 
2009 Golden Age & Golden People. Birkenfelds Gallery, Riga, Latvia
1992 Fredrihshavn Art muzeum.  Fredrihskavn, Denmark (catalog)
Group exhibitions 
2016 Charity Auction Liktendarzs support.  Gallery Antonia, Riga, Latvia (catalog)
2016 Inconvenient gender. Latvian academy of Arts, Riga, Latvia
2016 Autumn 2015/ BARIKĀDĒM 25. Latvian Artist Union gallery, Riga, Latvia 
2016 Years Artists. Gallery Bastejs, Riga, Latvia
2015 ME and ME. Mukusala Art Salon, Riga, Latvia
2015 Helēna Choose. Gallery Bastejs, Riga, Latvia
2015 Riga painting in Paris.  Paris, France (catalog)
2015 Charity Auction Liktendarzs support. Gallery Daugava, Riga, Latvia (catalog)
2015 You Are What You Love. Kanepes Culture Center, Riga, Latvia
2014 ARTRANZIT. Gallery M'ARS, Moscow, Russia
2014 Sun System Perspective. Exhibition Hall Arsenals, Riga, Latvia 
2014 Kelias/Road/Kett. Pernavas Museum, Pernava, Estonia
2014 Kelias/Road/Kett. Latvian Artist Union gallery, Riga, Latvia 
2014 Kelias/Road/Kett. Lithuanian Artist Union gallery ARKA, Vilnius, Lithuania
2014 Latvians. Myths and Contexts.  Mukusala Art Salon, Riga, Latvia 
2014 On the wave. Latvian and Siberian contemporary art. Riga Art Space, Riga, Latvia (catalog) 
2014 Charity Auction Liktendarzs support. Latvian National Library, Riga, Latvia (catalog) 
2014 Resorts. Mukusala Art Salon, Riga, Latvia 
2014 Time Link. Moscow, CDH, (catalog) 
2014 Lecturers' creative works exhibition. LUPPAF, Riga, Latvia
2013 Nude. Mukusala Art Salon, Riga, Latvia 
2013 Как дела?! How are you? East Gallery, Moscow, Russia 
2013 The museum chooses. LNMA acquisitions around 2012. Museum of Decorative Arts and Design Museum, Riga, Latvia 
2013 Man is Coming. Exhibition Hall Arsenals, Riga, Latvia 
2012 Charity auction Liktendarzs support. Riga Gallery, Riga, Latvia (catalog) 
2012 Naughty ones. Exhibition Hall Arsenals, Riga, Latvia (catalog) 
2011 The Amber Sea. Exhibition Hall Arsenals, Riga, Latvia (catalog) 
2010 Golden Works. Exhibition Hall Arsenals, Riga, Latvia (catalog) 
2010 Autumn 2010 – Recycle bin.  Railway Museum, Riga, Latvia 
2010 Leonardo's followers. Birkenfelds Gallery, Riga, Latvia 
2010 Wheels.  Birkenfelds Gallery, Riga, Latvia 
2009 Fall 2009. Happy Art Museum, Riga, Latvia 
2009 Artists' Portraits and Self-Portraits.  Exhibition Hall Arsenals, Riga, Latvia 
2009 Non-conformism in the Baltic States.  Birkenfelds Gallery, Riga, Latvia 
Collections
Jāņa Zuzāna collection  
Gunta Belēviča collection 
Māra Vītola collection 
LNMA collection 
Latvian Artist Union collection 
Latvian Fire - fighting museum collection. Riga, Latvia
Art fond collection 
Russian Federation Culture ministry collection, Mascow, Russia
Frederikshavn Art museum, Frederikshavn, Denmark