Idyllic Peace
September 4 – September 29, 2018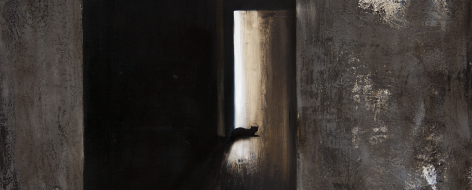 About the new exhibition of her art, Sigita says: "What's more important for me is what's left outside of painted canvas. What remained invisible: window, from which the light shines, thought itself is not noticeable. A lamp, from which a shadow falls on the yellow wall, but it's left out of the painting. Even where you can see proudly laying sausage on a plate, what's important, are people, who aren't there, but are everywhere else, and they have come to summer party to sausage grill"
Looking at Sigita Daugules works, the viewer sees nailed entrances, closed shabby doors, the depths of gateways with its usual residents, accidental light rays and shadows, - all of those are the main motives of the artworks. Looking at this, there's a feeling, that the paintings are created using what can be found in closest surroundings or correcting her own ideas and photo archives.
After visiting Sigitas workshop, I can't shake the thought that the artist is "leaving to the afterlife". That this time period has been time of many deliberate searches and choices – looking back at approbated values, quotes, bright, memorable, discoveries from earlier art exhibitions.
While leaving opens gates of backyard, sun is shining, the shadows are falling and you are taken over by peace, that connects with what's seen in on canvas.