Food
September 5 – September 16, 2017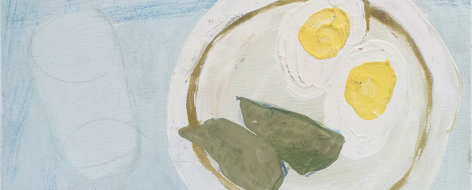 Aksels Bruks lives and works in Riga, and he has studied visual communication at the Latvian Academy of Art's, also worked in a "Golf Clayderman" artist community. "Food" is the artist's first solo exhibition."People love a good mystery. Its hard to open up, so the food is served on the plates."
Aksels Bruks Artist's works have a beauty that distinguishes itself from the decorative beauty. It gives the impression that everything is not visible on the surface, and the visible one is just an example of the whole.
"Guests are always welcome here. The good smell of the dumplings, the aroma of cucumbers and black pepper nicely excites. The thirsty can find a cool lemon lemonade. The phone is switched off, the background fills with the cutlery clinking against the dishes of the formal guests, the food is devoured.
Full of richness and good. Hard to describe. Please, taste, here are a lot of good foods. Here are also gastronomical feinschmecker and bleached flour.
Guests can enjoy a pleasant atmosphere and warmth." Aksels Bruks
At the opening there will be a concert by composer Andrejs Gradinārovs.
We invite everyone to come and enjoy! The exhibition is open from 05.09 – 16.09.